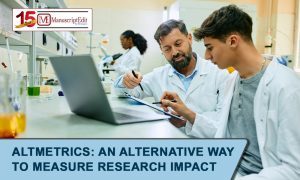 What is Altmetrics?
Altmetrics, the short form of Alternative metrics, is a new approach to tracking and monitoring real-time research impact and influence of scientific communication. Once a scientific/research article gets published, Altmetrics considers the reach and attention the article gathers by analysing social media coverage, digital media coverage, downloads, bookmarks, blogs, and local media coverage. While we have our traditional journal impact factor and H-indices as traditional bibliometrics, Altmetrics has brought a new perception to measure the impact of research.
In 2015, Catherine Chimes, the head of marketing at Altmetrics opined, demonstrating how meaningfully engaging your research work is and the kind of impact it has on society can be a great help to get grants, funding, employment, and contribution to the society (Nature, 2015). It has been a famous metric adopted by scientific giant publishing houses such as nature publishing group, PLOS, Cell Press, Mendeley, etc.
Example of an Altmetrics
Below is a research article published in Nature Communications in 2018. The authors have described a novel approach: the computer-aided discovery of a world record-making metal-organic framework named UMCM-152, which can deliver oxygen 22.5%, which is the highest till that year and date among the known existing metals. Let's see how much impact this study makes in real-time and at the social level.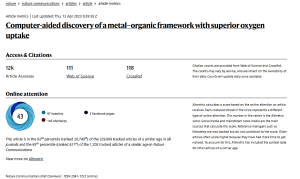 (Source: https://www.nature.com/articles/s41467-018-03892-8/metrics)
The Altmetrics score is 43, and the interpretation is simple – A higher score = higher reach.
What to Do with Altmetrics Data?
Now that you have understood what Altmetrics data demonstrate, you may be thinking about how to use this data? The answer is you need to ask specific questions to yourself, like:
Is the score good for my content, or do I expect more?
Am I reaching my target audience as intended?
How am I scoring with others in my research area?
Does the impact received matched my expected outcome or give a boost to my future goals?
Based on the answers, you will know where you need to work out, what you can do, and how.
What Are the Limitations of Altmetrics?
People may manipulate data and thus make their research show high scores because the accuracy depends on how accurate the name and object information is and a third party.
Conclusion
Altmetrics have changed the way research impact was once looked upon. However, that does not demean the traditional bibliometric approaches. If you want to know more about Altmetrics and how to improve your impact, don't forget to follow us at https://www.manuscriptedit.com/. Mail us your queries at support@manuscriptedit.com.
---
Author :
Dr. Soumya Prakash B