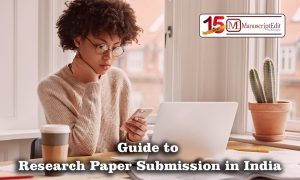 Every researcher wants their work to reach the people, the researchers and scholars in their field, and the best way for it is to publish their articles in a reputed journal. The researchers increase the visibility of their work by making it available to the general public through publishing. The first step for publication is submitting your paper to a journal.
Where can you submit your research paper in India?

You can submit your research paper to a journal that meets the scope of your paper. Any journal's homepage consists of the 'aims and scope' section and the indexing section that will let you know that particular journal's indexing.
You can also take the help of an Editing Service, which provides the service of publishing your research paper in the right journal. They go through the editing, formatting and submission processes for you.
How to get your research paper published in India?
The first step is to ensure your research paper is free of all grammatical errors and is conveying your research objective.
The second step is to check the plagiarism of the paper. This step shows the uniqueness of your work. During submission, journals ask for a plagiarism report. 'Turnitin' is a well-known plagiarism detecting site that indicates the percentage of plagiarism in your articles.
Decide on the impact factor and indexing of the journal to which you want to submit your research paper. Some recognized indexing you can look for is Scopus, PubMed, DOAJ, or Web of Science indexing.
Select a suitable journal that meets the scope of your paper. Also, check the author guidelines of the journal. Make sure your paper meets the specific guidelines of the journal for submission.
After selecting the journal, click the 'Submit Manuscript' option and create an author account. Proceed further by submitting your research paper through the same account.
How to publish medical research paper in India?
To publish your medical research paper, you can follow the same steps for research paper publication, explained above. Go through the scope and select a journal that specializes in medical publication.
To submit my research paper in India, I would look out for journals consisting 'Indian' in their names because usually these journals or their publisher is Indian based.
You can also check the below-mentioned links for some examples of Indian research paper sites –
Conclusion
If you find this specific content useful, please visit our website https://www.manuscriptedit.com for more blogs and podcasts. You can mail us at support@manuscriptedit.com for your queries. Happy publishing!!!
---
Author :
Ms. Anwesha P