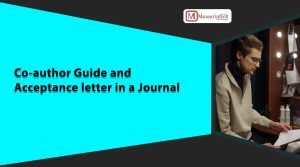 Some journals may send Co-Authors an email containing deep links to confirm Co-Authorship. Corresponding Authors may also be allowed to control the Other Author verification procedure by the Journal.
Who is the Co-author?
A Co-author is someone who has made a significant contribution to a journal publication. They also share accountability and responsibility for the outcomes.
If an article has more than one author, you'll choose the corresponding author. This person will be in charge of all article correspondence and sign the publishing agreement on behalf of all authors. The corresponding author is in charge of ensuring that all of the authors' contact information is correct.
Roles of Co-author
The corresponding (submitting) author is exclusively responsible for communicating with Scientific Reports and handling co-author correspondence. Do Correction and proofreading of manuscripts. Handle modifications and re-submissions of updated manuscripts until the manuscripts are accepted.
Accepting and signing the Author Publishing Agreement on behalf of all necessary co-authors and obtaining the signature of any third-party rights owners.
Arranging for APC (article processing charge) payment. Under Open Access Agreements, the corresponding author's affiliation is considered to assess eligibility for discounted or waived APCs.
Act on behalf of all co-authors in responding to post-publication requests from all sources, including issues about publishing ethics, content reuse, and the availability of data, materials, and resources.
There are several compelling reasons why you should work together on a publication. Collaborations in research are one of the finest reasons. Collaborations in research might be one of the most satisfying aspects of your scientific career. Working with "masters" in your profession or experts from other fields can substantially extend your horizons and provide you with access to knowledge, methods, infrastructure, and labor. Collaborations in research frequently result in two or more publications. It is common for one publication to be driven by your partners in these instances. Your contribution is recognized with a co-authorship, several co-authorships, or, in ideal cases, an asterisk indicating "equal contribution."
Acceptance letter for co-authors
Journal editors exclusively send emails to the corresponding author, not the co-authors. The corresponding author is the journal's sole point of contact. The corresponding author's responsibility is to relay the editor's messages to the co-authors. Journal editor cannot send individual acceptance letters to every co-author. As a result, You should contact the associated author and request that the acceptance letter is forwarded to you if you require it.
Conclusion
Based on the Authors position in the research process and paper preparation, authors can be designated as the lead author, first author, co-author, or corresponding author. The corresponding author is in charge of the manuscript during the submission, peer review, and production processes.
From submission to publication, all communication will be with the relevant author. However, there is a recurrent dispute over whether or not an article can have more than one associated author. Some or several co-authorships may enhance scientific cooperation and reciprocal intellectual stimulation and expand your publication list and fill gaps in your publication history.  It is better to avoid publishing too many papers with many co-authorships.