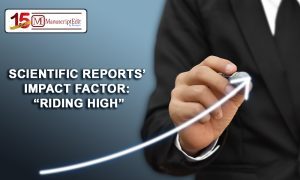 Our research is usually based on the journal's impact factor (IF), which denotes the significance of the work published in a specific journal. A scientist's research is evaluated based on the impact factor, representing a journal's prestige. An article's impact factor is determined by how many times it was cited in a particular year. A report by Clarivate Analytics, Web of Science Journal Citation Reports (WoS JCR), includes Journal Impact Factors each year.
Recently, it has been found that Scientific Reports, a journal of Nature Publishing Group with an option of open-access, is gaining popularity and importance among researchers for its wide coverage of all research areas, such as natural sciences, medicine, psychology, and engineering. The main reason this journal is a researcher's choice is its publishing house and ease of publication than other core journals of Nature.
Scientific Reports Journal metrics
Scientific Reports is the fifth most-cited journal in the world as per Clarivate Analytics, 2020 (2021 Journal Citation Reports).
Scientific Reports is Web of Science, PubMed, Scopus, Google Scholar, and DOAJ-indexed, enhancing its credibility.
Scientific Reports' impact factor in 2022-23 is 4.997 as per the latest update.
The 2-year and 5-year impact factors are 4.996 and 5.516, respectively. Even though it marks a slight decrease, the difference is not high enough.
Although Scientific Reports' impact factor is not high, it is still a prominent option to publish as it has a smooth publication process and accepts quality content in a wide range.
Scientific Reports Peer-review Policy
Scientific Reports' review time includes its first decision in 56 days and the acceptance time of 133 days. Since it publishes scientific content of robust quality and maintains originality, Scientific Reports' acceptance rate is 49% which is good for any journal as it has a rigorous peer-review process.
Scientific Reports is a high-impact journal, although its IF is less because of its experienced and extensive editorial team that adheres to a constructive peer-review process and follows all editorial and ethical policies.
To maintain the journal's high impact and quality, the journal charges an APC after the paper is accepted, which may vary, starting from €1,570.
A global journal such as Scientific Reports ranks higher than 77% of the journals with an impact factor.
For more exciting content, do visit our website https://www.manuscriptedit.com/scholar-hangout/. You can also mail us at support@manuscriptedit.com for your queries. Happy reading!!!
---
Author :
Ms. Swati M