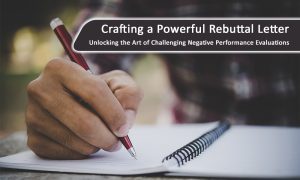 Introduction:
Receiving a negative performance review can be devastating, but knowing this is not the end is essential. It isn't the final verdict! A well-crafted rebuttal letter provides a valuable opportunity for challenging unfair assessments in academic or professional environments and presenting your case persuasively. In this blog, we'll cover its purpose, common pitfalls to avoid, and strategies for striking the delicate balance between assertiveness and diplomacy – let's set sail together on reclaiming our narrative through words!
The Purpose of a Rebuttal Letter:
Rebuttal Letter: Rebuttal letters allow you to express your side of the story and refute allegations made in a negative performance review.
Correcting Inaccuracies: If there have been factual inaccuracies or misinterpretations in an evaluation, writing a rebuttal letter provides an opportunity to set the record straight and clarify evidence.
Demonstrating Professionalism: Writing an articulate and comprehensive rebuttal letter demonstrates your ability to handle criticism maturely while engaging in productive dialogue.
FIGURE 1. SAMPLE REBUTTAL LETTER SHOWING RESUBMISSION OF THE MANUSCRIPT.
Source: https://www.niche.org.uk/asset/insider-insight/Insider-Reviewers.pdf
 Common Mistakes to Avoid:
Emotional Reactions: Avoid making short statements that reflect emotions; instead, strike a balanced and professional tone when responding.
Disregard of Evidence: To make your rebuttal credible and persuasive, provide hard evidence such as documented achievements, positive feedback, or objective data that supports your claims.
Lengthy or Disorganized Responses: Make your rebuttal focused and concise by responding directly to specific points from the evaluation. Subheadings can structure arguments more clearly, making it easier for readers to follow your letter.
Ethical Considerations:
Honesty and Transparency: Present your case honestly without misrepresenting facts or exaggerating achievements.
Professional Language: Behave ethically and appropriately by refraining from personal attacks or offensive statements.
Confidentiality and Privacy: Please adhere to any confidentiality agreements or sensitive data while discussing your concerns.
Striking a balance:
Assertive but Diplomatic Communication: Express your concerns assertively while offering clear evidence and logical arguments to back them up, while at the same time maintaining an indirect approach that fosters constructive dialogue.
Seek Guidance and Feedback: Get guidance and feedback from trusted colleagues or mentors who can offer invaluable input so your tone strikes the right balance.
Before we conclude, have a good read through the below-mentioned rebuttal letter (pun intended)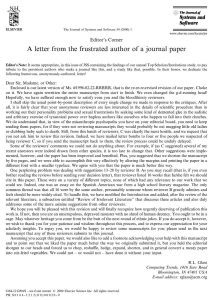 FIGURE 2: A REBUTTAL LETTER FROM A FRUSTRATED AUTHOR TO THE EDITOR.
Source: https://theeconomyofmeaning.com/2019/08/18/funny-on-sunday-a-letter-from-the-frustrated-author-of-a-journal-paper/
Conclusion:
Crafting an effective rebuttal letter allows you to challenge negative performance evaluations and reclaim your professional narrative. By avoiding common errors, adhering to ethical considerations, and striking an effective balance between assertiveness and diplomacy in your case presentation, your rebuttal letter will prove successful in making its case effective and potentially impacting its outcome.
Running short of hand and minds, do contact us for writing an effective rebuttal letter support@manuscriptedit.com