Maintaining Accuracy in Academic writing 
Academic writing demands accuracy to make the writing worth reading and evaluation. Do connect with us to learn about academic writing and accuracy.
Accuracy in Academic Writing
You have been marked low in your college assignment due to a lack of accuracy? No worries; everybody has gone through that phase. Whether it is an academic essay or an academic project, you were expected to be accurate in your assignments. So, what is actual accuracy in Academic writing? How can one be accurate in academic writing? Scroll down to know more.
What is Academic Writing?
Academic writing involves writing a formal document in a specific format, usually organized by or submitted to educational institutions or other government or non-government bodies.

Academic writing is usually objective, formal, and technical, including all subjects. This form of writing is usually found on various topics in books, newsletters, journals, posters, conference papers, etc.
Types of academic writing!!
Essay
Thesis/Dissertation
Research proposal
Literature review
Research article
Laboratory report
Annotated citations list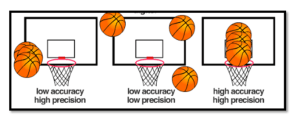 Academic writing features: Accuracy and precision?
Source: http://www.amathsdictionaryforkids.com/qr/a/accuracyPrecision.html
Academic writing features: Accuracy and precision?
Precision writing is a clear, correct, and concise form of formal writing (Measures repeatability).
Accuracy in academic writing relies on the truthfulness and correctness of the writing (measures correctness).
Importance of accuracy in academic writing:
Writers should ensure their academic writing is accurate in structure, style, format, language, and content.
Content Accuracy: Authentic sources are used or taken in detail justifying the topic.
Example- In a book chapter on "History of Bacteria," you could detail how and when bacteria were discovered, their importance, survival mode, and even the latest bacteria known to man.
Format accuracy: Academic writing must adhere to the proper format.
Structure of writing: It requires a proper flow of information within the paragraphs. For example, a feature article should start with a longer lead paragraph that draws the reader in.
Writing style and language: Focus on proper vocabulary, grammar, punctuation, and type of English.
For example- Journals usually follow either American or British English styles.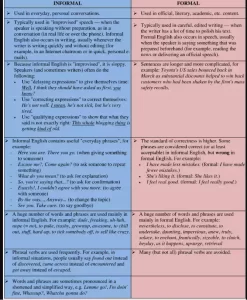 Image Source: https://www.eslbuzz.com/the-difference-between-formal-and-informal-language/
Figure 1: Snippet showing the difference between formal and informal writing.
Types of accuracy:
Document: Proper coverage of each detail related to the topic
Stylistic: Language, grammar, and style consistency
Technical: Correct understanding of the content
Conclusion: Checklist for maintaining accuracy!!!
No informal or casual terms
Avoid second-person pronouns
Avoid using redundant words or phrases, unnecessary jargon
Presenting accurate and concise information
Support your writing with authentic evidence
Use a consistent style of English (US/UK).
Cite your sources, maintaining consistency in citation style.
For more exciting content, do visit our website https://www.manuscriptedit.com/scholar-hangout/. You can also mail us at support@manuscriptedit.com for your queries. Happy reading!!!