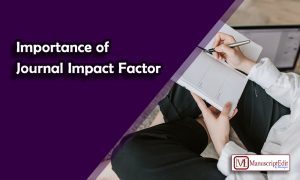 Research metrics are applicable for reaching out to complex concepts like impact and quality. An impact factor of a journal is an identified indicator for measuring the influence and prestige of any journal. It is important worldwide because academicians and researchers undergo peer pressure to publish in higher-impact journals. The impact factor is essential based on the source of data, calculation method, or context usage.
Impact factor calculation

The impact factor is a ratio of all citations' average received in a particular year to the journal's previous publications of two years and divided by the sum of citable publications in the immediate previous two years.
Usually, impact factors for the current year are available only in the subsequent year, such as, for 2010, it will become available only in 2011, and so on. Impact factors for journals are calculated yearly and released in the Journal Citation Reports (JCR) reported by Thomson Reuters.
Advantages of using impact factor
There are many journals to pick from, and each journal's impact factor offers an unbiased assessment of the general caliber of work published in that journal. Generally, a journal is seen as being more reputable the higher its IF value.
Library administrators have a tool in the impact factor to help them choose which journals to keep in their collections and which to add to their libraries.
Disadvantages of using impact factor
The academic appraisal of researchers for tenure, grants, funding, etc., frequently involves the usage of the impact factor. This is inaccurate because the impact factor is only intended to reflect the caliber of a journal as a whole, not the caliber of specific papers published there.
Tips to follow when using impact factor
The absolute value is not very essential as this is very subject-specific. A low value may also be important in disaster management or the oceanography field as these are mostly read and cited by a very small audience. At the same time, this might not be important in other fields.
The impact factor should not be compared with journals across other disciplines as it varies in citation frequency.
Certain fields do not have any relevance for impact factor such as conference proceedings which are taken as a principal method of scientific publication.
Thinking that absence of impact factor for a journal will hamper its quality is not worthy as the databases are always irregularly distributed.
Conclusion
The journal impact factor is a highly helpful tool for evaluating journals. It should not be the only factor considered when choosing which publication to submit your work to. It is critical to understand that a publication with a specific specialty (such as Diagnostic Molecular Pathology) may have a lower IF than one with a broader scope (e.g., Journal of Pathology). Finally, scholars should look into additional quality indicators for journals, such as SNIP and SJR score.
---
Author :
Ms. Swati M